How do you find a builder you can trust and be confident they'll still be around to complete the home of your dreams?
Whilst you're making a series of significant decisions, you want to be sure that your builder is not only able to build your home, but is also part of a stable, secure company that won't go out of business in the process.
Making the wrong choice of builder can leave you with an incomplete home due to their poor planning or cash flow management. As the saying goes, the surest way to ruin a man who doesn't know how to handle money, is to give him some… But you don't want them squandering yours!
Choose A Certified Professional Builder
Rather than being in a constant state of worry, you want to be able to enjoy a relationship with a builder you trust and who runs their business professionally. Let's face it, you're going to be working very closely together on one of the biggest projects of your life, so choosing a certified professional builder is going to be extremely important.
When you get this right, you can be confident that you'll be the proud owner of the home you've always dreamed of.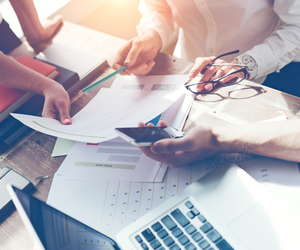 By selecting a certified professional builder, you can be sure you're going to enjoy a positive building experience and that you're dealing with a company that plans and operates at a higher level.
With 80% of building firms going out of business in the first five years, it's vital you make the right choice.
The 'typical two-men in a ute' builders are unlikely to have the processes and procedures in place to ensure your build runs smoothly. A certified professional builder on the other hand, has access to a range of systems and tools that ensure your new home is built on time and on budget.
Will A Professional Builder Be More Expensive?
Those working out of the back of a ute may tell you a professional building company is more expensive....
Unfortunately, these people are generally underquoting in order to try and win your contract to pay off the last job they did. Or, they simply don't have the specialist knowledge and experience to cost the job correctly.
As the saying goes, if you buy cheap, you end up paying twice. A certified professional builder has the systems to accurately quote and schedule out your new home build in Hobart and Launceston.
This significantly reduces the risk of costly mistakes or delays whilst at the same time, reassures you that you know exactly what stage the build is at, what you can expect and when you can expect it to happen.
Access Their Systems
A professional building company will provide you access to an online portal where you will receive regular updates and photos of your build, where you'll see first-hand the craftsmanship that's going into your home.
This
transparency helps you to build trust with your builder as well as improving communication which reduces the need for you to have call them to find out information.
You can be confident that a certified professional builder will be in business long after the ink has dried on the contract, because they are financially audited every 90 days.
This reduces the chance of the builder going out of business whilst they're building your home and turning your dream into a nightmare.
Plus, when you choose a certified professional builder, you receive the benefits of working with an independent company, combined with the trust and reputation of a larger business that provides ongoing access to the latest systems and processes for running a residential building company.
Get Your New Home On Time & On Budget
Rainbow Building Solutions is an APB Certified Professional Builder, giving clients like you, confidence that you are building with a company you can trust.
You will also benefit by working with a Certified Professional Builder who has the systems and processes that allow us to complete your home, on time and on budget.
All Rainbow clients are provided access to an online portal that contains project information, a schedule of activity and daily updates related to the building of their dream home, so you can keep track of progress wherever you are.
And, when you build with us, you know that you are going to be a proud owner of a Rainbow home.
Everything you need to know to help you find a builder you can trust is included in our free handbook.
Click on the link below to download 7 Things You Must Ask Your Builder BEFORE Signing A Contract.