Do you want small, cramped living spaces which limit your views of the beautiful Tasmanian scenery surrounding your new home build?

Didn't think so…
Whilst most homeowners are excited by interior design, fixtures and fittings; it's equally important to be aware of some of the structural decisions and how they can impact on your final living space.
Get these wrong and you could end up with smaller rooms or a reduction in window space; plus a host of maintenance issues and nagging regrets that you can live without.
Why You Need To Use Steel...
By making the right choices, it's possible to design and build a unique home that captures the stunning views Tasmania has to offer; whilst still providing large, open-plan living spaces and comfort for you and your family.
This, combined with a reduction in maintenance, provides you with more time to enjoy and relax in your beautiful new home.
Whilst homeowners often focus on the cosmetic elements of their new home, a simple decision to use steel frames, rather than timber, can dramatically improve the design flexibility of their build.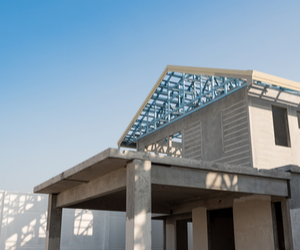 Steel framing is renowned for its ability to provide large spans that are strong, straight, fireproof and built to last. Steel frames have been used in residential and commercial buildings since the 1950s and (unlike timber alternatives) have much longer lifespans; which is why they typically come with a 50 year warranty.
Some builders may prefer to use timber frames, because 'that's the way it's always been done'.
In reality, they are sacrificing your living comfort, quality of finish and the lifespan of your new home, simply to make it more convenient for themselves.
Isn't Steel Noisy?
An argument often put forward by 'old school' builders is that steel frame homes are noisy - particularly when the temperature changes.
There's no evidence to suggest that this is true; and it's even more of an illogical claim in a well-insulated property - which, of course, yours should be. In fact, studies conducted by the CSIRO found that most occupants of homes with steel frames reported no sound emissions from them at all.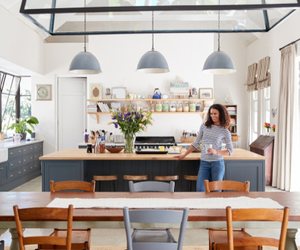 In the end, it boils down to the fact that some builders are just not up-to-date with the latest methods or materials, when it comes to building a new home.
There are, however, many appealing features for steel-framed builds, which are conducive to an open plan, comfortable and enjoyable home.
Due to its strength, steel provides much wider spans and flexible design options; allowing your rooms to be bigger and for windows to be larger.
The beauty of bigger windows is that they enable you to design a home that brings the outdoors in; allowing you to enjoy the beauty Tasmania has to offer, in comfort.
A Warranty That Says It All...
Steel frames won't warp, twist or shrink over time; thus reducing the chances of your windows sticking or your doors jamming. Tried and tested since the 1950s, steel frames often come with a 50 year warranty; compared to the typical six year warranty provided with timber frames.
The strength and longevity of steel will reduce the maintenance of your new home over the years; whilst also protecting your family's biggest asset.
When planning your new home, it's important to think about how you can maximise your block of land and capture the amazing Tasmanian views. In addition, you want to design a home that's airy and open - rather than cramped and pokey.
Choosing steel frames plays a big part in this, by providing more design flexibility, larger living spaces and reduced maintenance.
Who doesn't want to live in a home that they can enjoy and feel proud to share with their family and friends?
Discover the secrets to building your perfect new home and avoid making costly mistakes.